Local pupils get to meet real life super heroes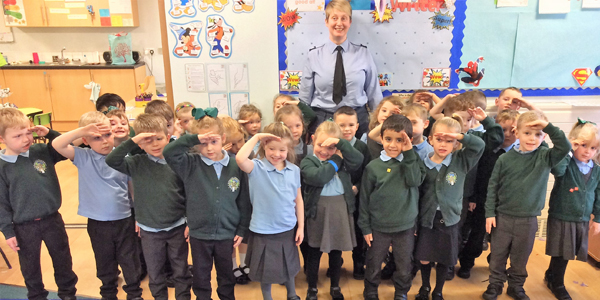 Pupils from St Peter's CofE Primary School, Farnworth, have received special visits from real life heroes as part of an ongoing project to inspire and inform children about important roles in society.
The reception class has been eagerly learning about different careers and how they benefit the community. They have enjoyed a range of inspiring talks from an army nurse, midwife and vital members of the emergency services.
Kicking off the project was RAF Sergeant Sophie Hobson. Sergeant Sophie is an avionics technician and she shared with the children details about her role and achievements.
Sergeant Sophie has recently been recognised for her accomplishments, whilst working in active service, she had to get herself and her colleagues to safety in a location within the Middle East.
She showed the fascinated class her collection of medals as well as a clip of her recent appearance on BBC's Strictly Come Dancing, as part of a Remembrance Day performance, which paid tribute to the women who have served in the RAF.
Next the children met a paramedic called Pete. His informative talk detailed how he helps the lives of thousands of people each year and also showed what types of first aid he carries out.
Further excitement followed when local police officers arrived at the school. Dressed in uniform, the officers turned up in a police van and car, which the children had the chance to sit in, as well as trying out some key pieces of the uniform.
Police dog Harry also came along and received lots of strokes from the children, whilst officers talked in-depth about their roles, and Harry's, in the community.
As part of the project, pupils even had chance to leave the classroom and visit Farnworth Fire Station. The class was given an exclusive tour and were given the opportunity to sit in a fire engine and watch a fire hose in action.
Mrs Lynn Williams, headteacher at St Peter's CofE Primary School, said: "Here at St Peter's, we believe it is important to celebrate the wide range of careers people fulfill in society and teach children, from a young age, that we do have real life super heroes in our community.
"I'd like to personally thank everyone who has given up their time and spoken with our reception class – they have had a wonderful experience and this project has really helped them understand the work of these incredible people."
St Peter's C of E Primary School was recently named runner-up for The Communication Award at this year's Educate Awards at the Liverpool Cathedral.