Archbishop Blanch's history honoured in new build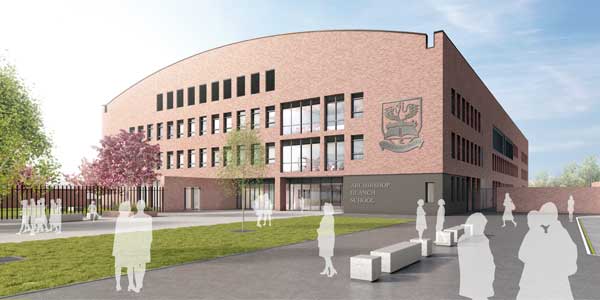 Archbishop Blanch CofE High School for Girls is set to honour its founding schools when its new building opens this September.
The state of the art building will open its doors for the start of the next school year and headteacher Heather Duggan says it was important to include a reminder of the school's beginnings.
Ms Duggan said: "The dedicated school chapel will incorporate some of the stained glass windows from the two founding schools, St Edmund's College and Liverpool Girls' College, to give a sense of history combined with a thrilling vision for the future."
The new school building, situated on Earle Road, off Smithdown Road, will also feature a 'Word Wall', a striking display of words which embody the school's ethos and Christian values.
Ms Duggan said she is delighted at the progress of the work taking place at the new building.
She said: "It is wonderful to witness how things are coming together. We are standing at the brink of an exciting future and the new building, with its fantastic on-site sports pitches, will be able to offer the students and staff the high standard of facilities they so richly deserve."
As from September, the school will be the only Church of England high school for girls aged 11-16 years, something Ms Duggan says makes it an attractive option for parents.
She says: "Single sex education provides many advantages for young girls.  For example, girls educated in single-sex schools gain more confidence, make academic gains above those of similar peers in co-educational schools and learn to gravitate towards maths and science as they feel more comfortable in an all-female environment.  A recent success for the girls was winning the Liverpool Law Society Public Speaking competition against extremely tough competition."
The school will be holding its Open Evening for Year 7 Admission in 2016 on Thursday, 24th September 2015 at 6pm. when parents and their daughters will be able to see for themselves the fantastic new facilities on offer.