Inspiring the next generation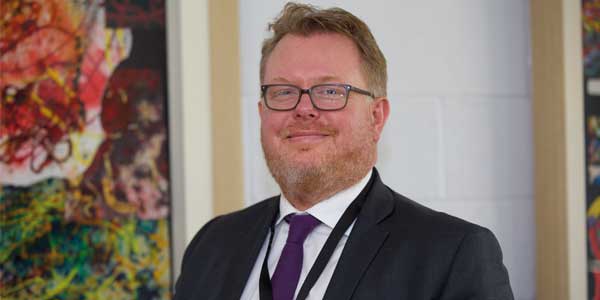 Meet the Headteacher James Beaton, Fazakerley High School
by Stephen Hurrell
From Glasgow to Liverpool via Reading, Fazakerley High School headteacher James Beaton has plenty of experience teaching across the UK. But it is his passion to improve his pupils academically and pastorally that has driven him in his new role at the North Liverpool school.
When James Beaton was attending a school in the East End of Glasgow at the age of 12, a French teacher he described as 'magic' ignited his passion for teaching. It was, says James, the only thing he has ever wanted to do.
After qualifying and teaching in the same school for nine and a half years as a chemistry teacher and head of department, he moved to a girls' school in Reading. It was from here that he sought a new challenge – and noticed an opportunity at a school in Fazakerley.
Fazakerley High School had moved in to a new building in 2005 and James instantly fell in love with the school and area. "I came for the interview and fell in love with the school," he says. "The head's vision for the school was phenomenal. I was assistant head and head of science and it was the best job I've ever had."
When the headteacher passed away in post, James took on the role of deputy to the new head. This became a headteacher role last summer and he is now determined to bring his own brand of magic to the teaching arena.
"Fundamentally I believe in a traditional education. That means they do well in life skills which are numeracy and literacy," he says.
"However, we have a fantastic art department and it's reflected throughout the school. All art work is displayed appropriately, not just Blu-tacked on the wall. We spend a lot of money creating this and people have wanted to buy it because of the way it's displayed."
He says the school excels in art, music, dance and drama, with an "extravaganza" at St George's Hall last year highlighting how the creative arts department permeates all areas of the curriculum.
He explains: "When children are exposed to good music, good art and good drama they will do well in all subjects including core maths, English, science and humanities. If they have a well rounded education it can only enhance the experience."
His office reflects his values, with classical music playing in the background and striking art work created by the pupils adorning the walls. The philosophy of the school, says James, is that every pupil leaves the school having developed their potential.
The art displays and performances are not a bolt-on for pupils here; they're at the core of James and his team's ideals. Pupils have to want to come to school and improve themselves. The magic that captivated him all those years ago means he is passionate about making life better for his pupils.
He says: "Everybody looks after each other here. We have a pastoral team who don't teach and are always available to look after the children. Parents don't have to wait for teachers to stop teaching. We call it Family Fazakerley; staff look out for children, children look out for children and staff look out for staff. It's a really caring environment. It's academic and pastoral – it's encouraging each other to get the best out of each other."
There are other aspects to the school's curriculum too – on the day he is interviewed the school is holding a mock election as part of a democracy lesson. The school also has extensive sports facilities, which is described as one of the major reasons why many pupils choose Fazakerley High School.
There is also a thriving engineering department. Like the arts, it is taken out of its box as a niche subject and covers the entire curriculum.
"In the past it was seen as very niche and male dominated," he says: "We don't want that. It needs to be across the entire curriculum. It will encompass all areas of school. You can have engineering in cookery, within history, within humanities. It's fundamental to our country.
"A foundation in engineering is fantastic for our pupils. They're the most able pupils I've ever worked with and equipping them with those skills gives them amazing qualifications for life. We have a number of pupils throughout the year going on to university, doing engineering apprenticeships with companies like Scottish Power and Jaguar."
Once again, pupils are leaving the school having grown as a person and academically. And, after joining so soon after a new school build, James feels he and the school have grown together as well.
"The facilities really make a difference to the education of the pupils. Children come in and the environment really makes a difference. The school is 12 years old but it looks as if it has just opened – apart from the artwork, but that just makes it looked lived in and loved."
For James, passion for the job and a philosophy that ensures pupils grow as people as well as academically is enough to deliver a bright future for anybody who walks through the doors.
"When I saw somebody who had passion for their subject I thought that's who I want to be. Somebody who wants to make a difference."
Perhaps the next generation of teachers has already been inspired.