Interview with: Phil Denton, headteacher of St Bede's Catholic High School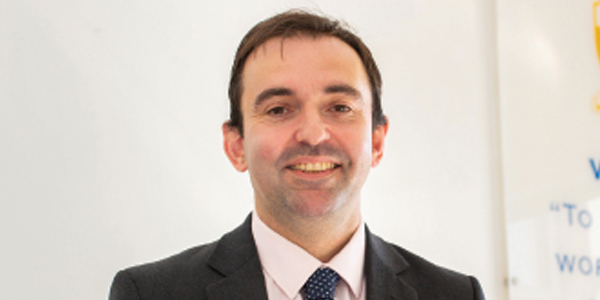 Many people would struggle to see the similarities between a headteacher and a football manager, but for the headteacher of St Bede's Catholic High School in Ormskirk, there are many affinities.
Mr Phil Denton has headed up St Bede's for four years. For Phil, teaching wasn't an obvious career path. After studying history with marketing at the University of Stirling, he was initially keen to start a career in marketing but after working with young people in summer camps in America, he had a change of heart and began a PGCE.
Phil said: "I remember the first time walking into a school and thinking 'This is fun!'. The vibrancy of it, the busyness, the creativity, innovation and the passion of the people that work there – it was exciting."
Phil then went on to work in schools in Wigan, Rochdale, Runcorn and even an international school in Saudia Arabia.
As if lifelong Tranmere Rovers supporter, Phil, wasn't busy enough running a school, he has recently written a book from a chance encounter in a hotel gym.
He said: "A few years ago, I was staying in a hotel and using the gym facilities when Micky Mellon, the Tranmere Rovers manager, walked in. This was shortly after the club had been promoted. I couldn't believe it!
"We started talking about headteachers and football managers and the differences in leadership styles. We were speaking for about three and a half hours and my wife was ringing me wondering where I was! It was such a great opportunity and we had a lot of ideas, so we swapped contact details in case we ever wanted to chat again in the future."

Phil and Micky eventually met up again and explored further ideas between the two roles and the premise of a book started. He said: "We had this idea of 100 days. There's a lot of books written about the first 100 days in business and a few presentations about the first 100 days as a headteacher, but not one about the first 100 days of being a football manager."
Through Micky Mellon's years of experience in football he was able to facilitate a number of interviews with well-known managers including Sam Allardyce, Ole Gunnar Solskjaer and Sean Dyche.
Phil added: "We met with them, spoke about what they did and found out their thoughts on why the first 100 days at a new club is so important. A lot of them hadn't really thought about what they were doing in any great depth but as we were meeting with them, I was reading a lot about different models and the things that people do and it really helped me to get great clarity on what I was doing in my own role."
At this point, Phil was embarking on his own headteacher journey at St Bede's, having initially joined as head of school.
Phil added: "That's how the idea of the book first came about – it was Micky's idea about the 100 days and my idea of mapping it out and how we can apply it to headteachers or other leaders in business."
The book took two years in the making which included a lot of waiting around for meetings and redrafting chapters. Phil said: "There was a point after the first draft where I thought 'I don't know if this is any good!'"
But once the structure and the theory had been laid out, the book soon came together.
He added: "When we went to speak to the managers sometimes we were looking for particular elements that we knew they'd done, so for example, with Ole Gunnar Solskjaer we knew he'd changed the culture and changed moods really quickly, so we wanted to investigate why that was. You have an idea of why that is but until you are actually in the building hearing it from him and also seeing him in action, you don't fully know."
"Going in there, you got to experience the environment, there was an air of excellence but still a nurturing overall environment and I think that probably will permeate right through the club because Manchester United, like a lot of places, is quite cut throat if you're not good enough.
"But with the other people we spoke to, you get to see other elements, like the team ethic that Sean Dyche sets at Burnley FC. It was fascinating the way he'd talk about things and it made me really reflect on some of the examples I've seen from other headteachers that are often quite authoritarian – shouting at children or banging the table in a staff meeting – but if you're not like that, some will say you've got to be more like that and tell people what to do.
"Seeing somebody with such a high-profile job working with big characters and big egos, gave me a lot of confidence to deal with things in a different way. It was fascinating to see Sean Dyche blossom and see what he did when there was somebody who didn't fit that culture. It gave me the confidence and understanding of what I need to do with certain situations – it was a really fantastic experience."
Phil went on to explain the analogies he found when writing the book. He said: "Football managers have supporters that are great when you are winning and difficult when you're losing. For headteachers, parents are great when things are going well and difficult when a child or the whole school is suffering.
"We discussed quite a lot about who the players are and we eventually agreed that your players are the children, so the football manager have players that they can't control, just like students, and they go on the pitch and they do what they want. You can't control students but you can have a structure and you can guide them. Then the coaches are the teachers and the support team.
"One big similarity we came across is that the football manager and the headteacher dictates an awful lot of the culture of an organisation to varying degrees. In somewhere like this school, there is a really strong Catholic ethos and I think the ethos should be the thing that creates the culture, rather than any particular headteacher, because if that happens and it is the headteacher that is creating the culture, then when they leave there's a big vacuum. Whereas if you are actually a values-based organisation then it doesn't matter who's in charge, it's not as important."
Speaking about why the first 100 days is important for both headteachers and football managers, Phil said: "It sets the tone for the days after that. The analogy I use is a bit like a take-off. In the 100 days you're planning, getting your route right and making sure you know where you're going, making sure you understand that people are on board and then when you start on day one, then it is a real rapid ascent so everything that you do is creating a compound effect.
"When you are on that rapid ascent in a leadership role, either in football or in school, the changes that you make have a much bigger effect than they will three months down the line. You have to be very careful that you are making considered changes after fully understanding the situation. If you do make changes that you don't realise the consequences of that in the first 100 days, will have a much bigger effect then it will in six months' time."
Whilst writing the book, Phil and Micky realised 'credibility' plays a big part in any leadership role. He explained: "In the first 100 days you are establishing credibility before you start and then when you start, and your credibility can establish in lots of ways. I think you establish credibility by understanding people, understanding the situation and then showing people that you care about them and showing how you can help them and the school improve. It's not about a big personal mission or vision in most scenarios but it is showing people how you could help them."
Since the book was published, Phil has received some great feedback from headteachers and other leaders around the country. He said: "The book has helped many individuals put structure into their roles as there are a lot of reflective questions within the chapters and they can look at different leadership models which allows them to relate their own experiences to football managers or to myself."
By writing the book, Phil's own leadership style at St Bede's has also improved. "It has definitely made me calmer. A lot of the staff would say I am calm most of the time but internally you don't always feel like that. Now I can stop situations and think 'What is the right thing to do here' and 'What have I learned from others' and then I'm not rushing into a decision."
When asked how becoming a headteacher could be inspirational and attractive to students who are looking at careers, Phil said: "It's not something that's really pushed in teacher training. Rightly, teacher training is all about getting people teaching in the classroom. I joined the future leaders programme and that was very much 'Come on and we'll support you in becoming a headteacher'. But it is a great job – it's so exciting. Yes, it is exhausting and you have to love doing it and there are sacrifices that you make, but the diversity of your day is unbelievable.
"One minute you can be dealing with the budget decision planning with the business manager and then the next minute you can be supporting a family that is struggling to feed their children. After that you might be working with a network of other headteachers to try and improve the local area. There is so much variety to your day.
"Yes it can be stressful but I think stress comes if you don't feel like you have got control over something."
Phil points to the serenity prayer he has framed above his desk. 'O God, grant me the serenity to accept the things I cannot change the courage to change the things I can and the wisdom to know the difference.'
He wisely concluded: "That really is every day. Accept the things that you can't change but do the things that you can."