Kit De Waal meets the next generation of writers, publishers and illustrators at the latest National Teen Book Club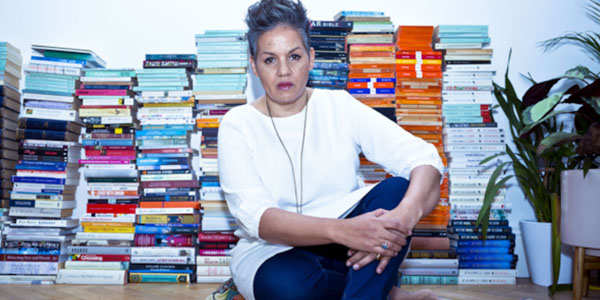 Social mobility charity Speakers for Schools and Book Clubs in Schools have teamed up with Penguin Random House for the fourth instalment of The National Teen Book Club where state-school students across the UK read and discussed Kit De Waal's award-winning novel 'My Name is Leon'.
It follows the successful book clubs last year, featuring Alex Wheatle MBE, Patrice Lawrence MBE and Candice Carty-Williams.
The book club included the opportunity to enter a flash-fiction competition and a book illustration competition.
Students were asked to develop a short-written piece, beginning and inspired by the first line of My Name is Leon: "No one has to tell [insert name] that this is a special moment". Winners of the flash fiction competition received feedback on their written piece from both author Kit De Waal and her literary agent Jo Unwin. Students were also asked to illustrate a character or scene from My Name is Leon and the winners will join Kate Grove, Andersen Press' art director for an online masterclass.
Over 500 teenagers from state schools and colleges took part in the latest Book Club, which kicked off in late-January this year and concluded on Wednesday 9 February 2022.
My Name is Leon by Kit De Waal, is an international bestseller, shortlisted for the Costa First Novel Award, longlisted for the Desmond Elliott Prize and won the Kerry Group Irish Novel of the Year Award for 2017. It is a heart-breaking story of love, identity and learning to overcome unbearable loss, of the fierce bond between siblings and finding your way home.
As well as being able to share their thoughts on the novel during live discussions each week, participants joined an exclusive Q&A with the acclaimed author.
The National Teen Book Club is free and available to those aged 14 to 19, to discuss a shared book and access and contribute to live weekly Q&As with literary experts to help them develop their own literary skills.

Ellie, aged 14, who participated in the National Teen Book Club, said: "Taking part in the National Teen Book Club has helped me realise that there are many careers out there that involve reading, writing, and publishing.
"Being an author is still one of my biggest dreams, but I now feel that being an editor or a literary agent are other possibilities I might also want to consider. I can honestly say that I have learnt a vast amount from being a part of the National Teen Book Club, and learning about the different career paths and options has hugely benefitted me as I think more about what comes next after school."
Kit De Waal, author of My Name is Leon said: "I never considered writing as a career when I was young, the only writers I knew were dead. Even when I began to read widely in my 20s, it was still a case of: if you can't see it, you can't be it. No one from my background – poor, black and Irish – wrote books – it just wasn't an option.
"Taking part in the National Teen Book Club is a great opportunity to meet young people from all over the UK and spark that fire in the next generation of writers, publishers and illustrators."
Ali Palmer, director of Book Clubs in Schools said: "The National Teen Book Club offers a unique chance for young people all over the country to come together to read a book and discuss their ideas.
"The weekly inspiring talks from authors and key influencers in publishing offer a real insight into careers and opportunities. The partnership with Speakers for Schools has enabled us to create an engaging, far-reaching programme that will inspire a reading for pleasure culture in the schools who participate."
Find out more and sign up to the next National Teen Book Club at: speakersforschools.org/national-teen-book-club/
The club starts on Wednesday 9 March at 3.30-4.30pm for four weeks, where young people will hear from author Rebecca Henry, Cassie Chadderton, chief executive of World Book Day and the author of the featured book Wranglestone, Darren Charlton, published by Little Tiger.