St Mary's College students celebrate excellent A-level results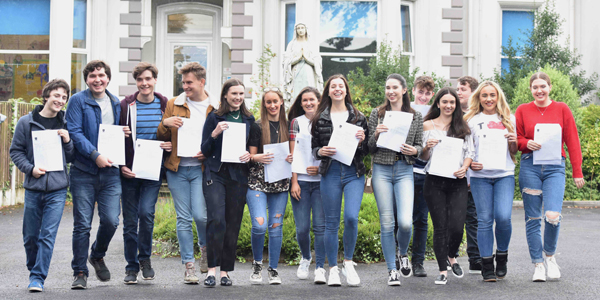 Students and staff at St Mary's College in Crosby are celebrating another excellent set of A-level results in the school's centenary year.
Candidates recorded a 99 per cent pass rate in the key examinations this summer – up from 98 per cent in 2018 – with more than a third of students (34 per cent) achieving three or more A*, A or B grades.
Further year-on-year improvement saw more than a quarter of all passes (27 per cent) being at A* or A grade (up from 26 per cent last year), and well over half (59 per cent) being at A*, A or B grade, up from 57 per cent last year and 52 per cent in 2017.
Overall St Mary's again recorded an excellent value-added performance, with many students exceeding their predicted grades, demonstrating once again the significant progress that pupils make at the school.
Top of the class at the college this year was head boy, Adam Bennett from Aughton, who achieved an incredible four A* passes in chemistry, physics, maths and further maths.
Adam is planning to study natural sciences at Durham University, where his older brother Sam – last year's top A-level student at St Mary's – is already studying physics.
Meanwhile, head girl Helen Fraser from Blundellsands who achieved A grades in biology, chemistry and maths is heading to Birmingham University to study medicine.
In a new initiative at St Mary's this year, Adam and Helen actually stepped down from their head boy and head girl roles at easter in order to concentrate on their upcoming exams, a very effective change judging by their excellent results!
Other high achievers at the school this summer include George Brennan-Rich from Aintree with an A* in maths, A grades in further maths and physics and a B in chemistry. George plans to study engineering physics at Loughborough University.
Meanwhile two other students are also aiming for a career in medicine. Hannah Briant from Crosby achieved A* grades in biology and maths and an A in chemistry and will study at the University of Liverpool.
And Georgia Shirley from Southport – also a Team GB rower – will be studying medicine at Nottingham University on the back of three A grades in biology, maths and history and a B in chemistry.
This year's A-level exams have also been particularly notable for three students who have become St Mary's own 'baby boomers'.
Caroline Kennedy, Alice Gray and Georgia Ismay were the first youngsters to join the new 'baby room' at St Mary's Bright Sparks Nursery when it opened in 2001, and so are the first students to complete their full 0-18 year educational journey at the school.
St Mary's College principal, Mike Kennedy, said: "I am delighted that we have such a pleasing set of A-results to announce as the school also celebrates its very significant 100-year milestone.
"The results reflect all the hard work and commitment of our students and staff – and the support they have received from their families – throughout their time at the college.
"All these young people have made a big contribution to life at St Mary's in recent years, naturally we are sorry to see them go, but we wish them every success in the wide range of future education and career paths they have chosen."