The Big Bang Fair returns to bring the magic of STEM to life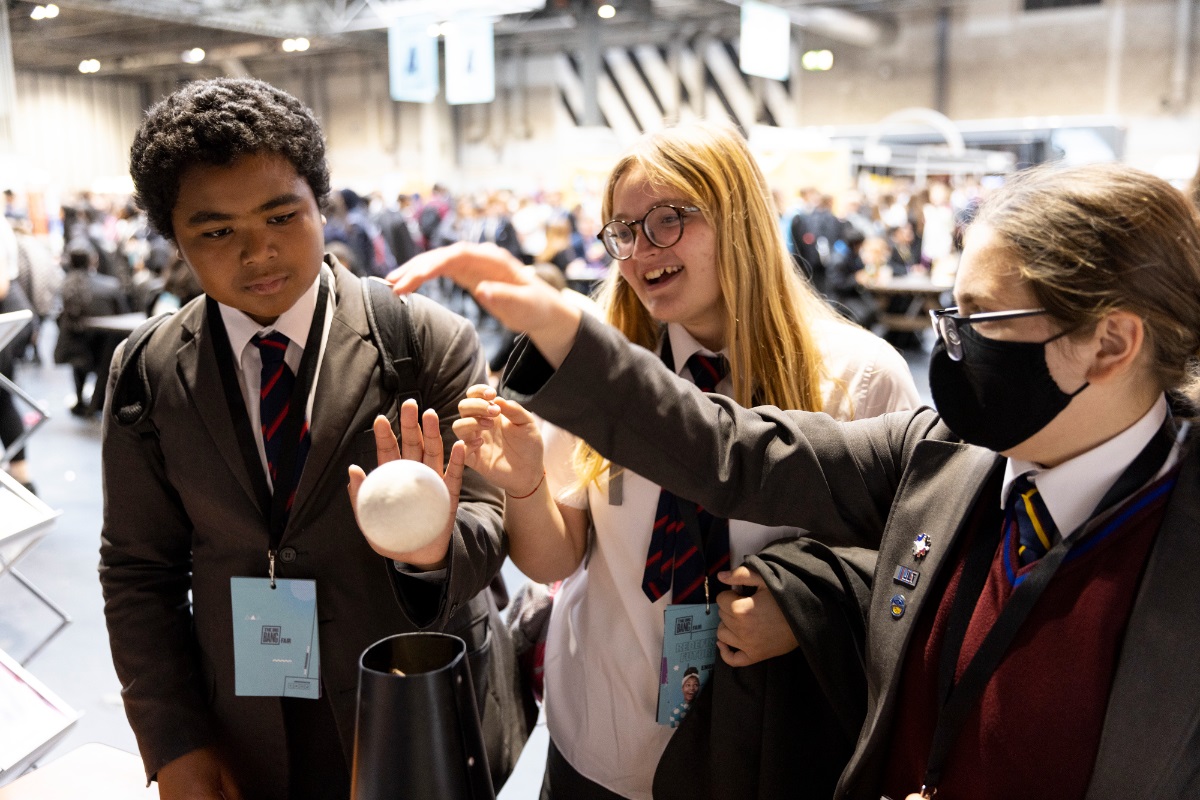 With just two weeks to go, excitement is building for the return of the popular Big Bang Fair, a celebration of science, technology, engineering and maths (STEM) for young people in the UK. 29,000 young people are registered to attend The Fair at Birmingham's NEC along with over 2,800 teachers. 
Students will have the opportunity to meet engineers and scientists and take part in an array of exciting, interactive activities – all designed to ignite a passion for STEM. Activity highlights include: 
– Exploring coding for good from Amazon
– Changing lives with audiology and optometry from Specsavers
– A drone coding experience from Code4Drones and a virtual reality space walk from the University of Sheffield's Women in Engineering society
This year will also see the return of popular stage shows – where The Ministry of Science will host an exciting live experiment and The University of Wolverhampton will lead a journey through time with chemistry. Young people will also be able to find out more about STEM careers, including green careers, throughout The Fair and at the dedicated careers panel stage.
Teachers will be able to find out more about inspiring their students with STEM careers, pick up free careers resources and network with colleagues and peers in the dedicated 'teacher hub'. 
Commenting on the fair, one teacher said, "There's a broad range of backgrounds at the fair which gives students an insight into the many avenues that STEM can open for them."
Another teacher commented: "The opportunity to talk to industry professionals makes the experience feel authentic, students respond well to adults explaining that their school interest helped them build a career."
The fair is supported by organisations from across the education and STEM sector including The Department for Education, Get into Teaching, BBC, World Skills UK, Rolls Royce. This year also sees 26 new supporters join the Fair, including Amazon, DePuy Synthes, Nissan Motors and The Blair Project.
Also debuting at the Fair this year will be a newly formed 'Opportunities in Aviation & Aerospace' group – which includes Civil Aviation Authority, Aerobility, The Royal Aeronautical Society, British Airways and TUI. Exhibiting in a joint space, the group are joining forces to showcase the skills and career opportunities available in the aviation and aerospace industry. This mirrors a similar collaboration seen with the 'Routes into Rail' group which including leading rail industry organisations.
Phillip McShane, associate director of the Big Bang Programme at EngineeringUK, commented: "Every young person who comes through the doors will have the opportunity to see how what they learn in the classroom is used in the real world, to meet someone who works in STEM and find out what they do, and hopefully be inspired to think about where STEM could take them in the future.
"We can't wait to welcome our young visitors to discover the magic of STEM and we're particularly pleased that over 60% of them are from priority schools – that is schools with a high proportion of students from demographic groups currently underrepresented in engineering and tech."
Also taking place at the fair will be the student showcase for 'The Big Bang UK Young Scientists & Engineers Competition' – where this year's finalists will exhibit their projects. Winners will also be announced at an awards ceremony, including the crowning of the prestigious UK Young Engineer and UK Young Scientist of the Year.
The Big Bang Fair is taking place from 21 to 23 June 2023 at the NEC in Birmingham. There are limited tickets remaining for schools – for more information click here.