The Children's Society is helping vulnerable children and young people break free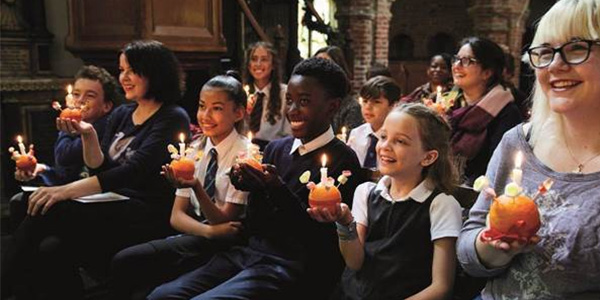 Image copyright Jon Snedden
This festive season, The Children's Society wants to help vulnerable children and young people 'Break Free' from abuse and exploitation. This year's annual Christingle campaign will be supporting this theme in a bid to help raise vital funds towards helping to achieve a better life for every child that needs support.
In the UK, there are young people dealing with hardship, abuse and neglect, and thousands more forced into crime, a situation that destroys childhoods, putting the chance of a brighter future at risk.  
The celebrations have been held across the country for 53 years in support of The Children's Society and includes singing and storytelling for both children and adults and revolves around children creating Christingles – a decorated orange with red ribbon, cocktail sticks and sweets, as well as a candle, highlighting different parts of the Christian story.
Churches across the country are adopting COVID-19 safe practices for their Christingle events, including for example at Halifax Minster and Leicester Cathedral that have set entry times, social bubbles and organising for children to be taken through carefully at various points.
Last year, in spite of the pandemic, The Children's Society was still able to carry on its important work with vulnerable children, with the help of the generous donations made at Christingle services. The charity works with young people who are affected by issues such as child sexual exploitation, those leaving the care system, those struggling with mental health issues, those going missing from home or care, young carers, refugees and migrants.
The charity's goal is that by 2030 the damaging decline in children's well-being will have been overturned, setting a path for long lasting growth.
The Children's Society has had high profile support from David Earl, Victoria Beckham, Josh Brolin and Dame Emma Thompson amongst others.
Award-winning soprano and radio host, Joanna Forest said: "It's great to once again be supporting The Children's Society's Christingle celebrations, as money raised will go to support children and young people in this country who are suffering from terrible hardship, abuse and neglect. It's why during the festive season it's so vital to help them break free from despair and transform lives.
"Christingle is so important, as it reminds us of the hope we can bring to thousands of children and young people in desperate need, especially at a time of year that often highlights their loneliness, and lack of loved ones to support and protect them."
Mark Russell, chief executive of The Children's Society, said: "The Children's Society is passionately committed to inspiring young people to be hopeful about the future. We love to see young people get on, and achieve great things; each child in distress or need should have the opportunity to be filled with hope.
"The festive season is often a trying time for many families, this especially extends and is felt most by children. It is such an important time of the year to make sure that there is a light out of the tunnel and brighter days to come."
Services are being held in churches, chapels and schools all across the country. There are around 5,000 Christingle celebrations taking place each year. You can search by postcode for the nearest event on the Children's Society website: https://www.childrenssociety.org.uk/how-you-can-help/fundraise-and-events/christingle/attend