Voting opens to choose the city region's best young artists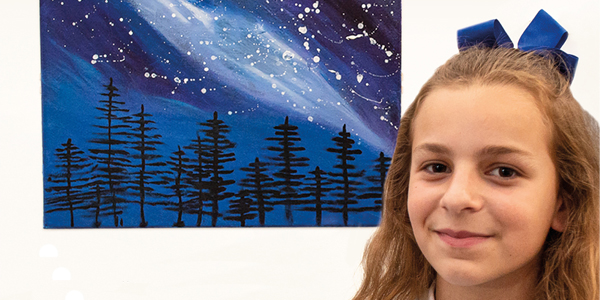 The public are being invited to cast their vote in the dot-art Schools 10th annual art competition to find the Liverpool City Region's best young artists. Anyone can cast their vote online from 1 April to 1 May.
80 schools have signed up for the dot-art Schools 2022 competition and over 1200 stunning artworks have been submitted, including some entries responding to the optional 10th birthday theme of 'protecting our environment'.
The judges have narrowed it down to their top three entries from each school ready for the public to vote for their favourite. The shortlisting panel is made up of some of the region's most respected artists and cultural institutions.
The artwork with the most votes from each participating school will win a place in the dot-art Schools 2022 exhibition, which will be held in the dazzling setting of the Royal Liver Building.
dot-art Schools' project manager Carolyn Murray said: "We're delighted that so many schools have signed up and submitted artwork for this year's 10th anniversary competition, particularly as so many schools continue to grapple with the effects of the pandemic. We couldn't achieve this without the fantastic support of our partners at Edge Hill University and all those dedicated teachers that make this possible.
"We've loved seeing the competition grow over the last decade, with 623 schools and more than 9000 young artists participating to date. Every year children and young people use their creativity to express themselves and display their incredible talents in such imaginative ways, and you can support these young artists by placing a vote for your favourite shortlisted entry."
To mark this milestone birthday, dot-art and partners Edge Hill University are looking to the future and the importance of sustainability by inviting children to create art themed around protecting the environment, to highlight the importance of looking after our planet.
Dr Helen O'Keeffe, associate dean in the Faculty of Education said: "We're so excited to be supporting dot-art again and especially during their 10th Birthday year. To mark the milestone, we've also championed 10 local schools to take part in the competition.
"It's also been brilliant to explore the issue of climate change in schools, combining our faculty's passion for keeping arts in the curriculum while promoting our shared belief in educating children about climate change and the environment. We can't wait to see this year's winners." 
This year dot-art welcomes Duane Chong of Grow WellBeing CIC to judge the "Protect Our Environment" themed entries. Also on the judging panel are: Matthew Pateman, head of creative arts at Edge Hill University; Kirsty Thomas, founder of Tom Pigeon design studio and The Make Bank which tackles creative poverty in schools; Amber Akaunu, artist and co-founder of multi-award winning magazine, Root-ed supporting Black, Asian, and PoC creatives; and Louise Hesketh, head of programmes at Curious Minds, the Arts Council England, Bridge Organisation for the North West Region.
They join Sandra Penketh, responsible for National Museums Liverpool's fine and decorative art collections, and Tony Heaton OBE, artist and chair of Shape Arts on the judging panel. The competition's overall winners will then be chosen by special guest judge Susan M Coles and announced at a prize-giving ceremony and exhibition launch in June.
Amber Akaunu said: "It has been a pleasure to look through all the incredible art and particularly see how the young people are making work on such important topics such as the environment!"
The competition itself is an inter-school, interactive, online art competition for Year 5 and Year 9. Taking part encourages children to explore their artistic side, increasing their self-esteem by celebrating their art, as well as giving pupils a chance to express thoughts and feelings through creativity.
As the leading project partner, Edge Hill is nationally renowned for high quality teacher training and has a long history of teaching education going back to its foundation in 1885. The University provides dot-art with access to schools all over the Northwest, expanding the initiative and allowing more children than ever to take part. The partnership also provides a great opportunity for students to learn more about teaching art and supporting the mental health of their pupils.
View the shortlisted works and vote online for your favourite artwork at http://schools.dot-art.com/browse-schools