Book Review – Teenage Fiction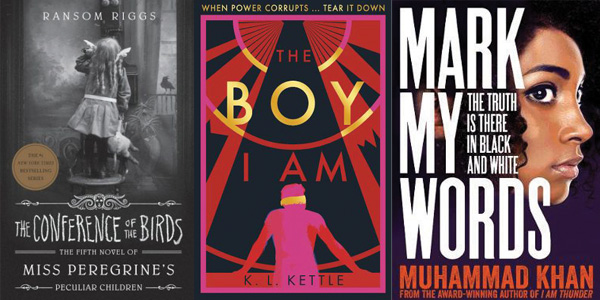 Here are three of our favourite teen fiction books:
 The Conference of the Birds – Ransom Riggs £7.99
With his dying words, H – Jacob's final connection to his grandfather Abe's secret life – entrusts Jacob with a mission: Deliver newly contacted peculiar Noor Pradesh to an operative known only as V. Noor is being hunted. She is the subject of an ancient prophecy, one that foretells a looming apocalypse. Save Noor, save the future of all peculiardom.
The Boy I Am – K L Kettle £6.49
Jude is running out of time. Once a year, lucky young men in the House of Boys are auctioned to the female elite. But if Jude fails to be selected before he turns seventeen, a future deep underground in the mines awaits. Yet ever since the death of his best friend at the hands of the all-powerful Chancellor, Jude has been desperate to escape the path set out for him.
Mark My Words – Muhammad Khan £7.99
Fifteen-year-old Dua Iqbal has always had trouble minding her own business. With a silver-tongue and an inquisitive nature, a career in journalism seems fated. When her school merges with another to form an Academy, Dua seizes her chance and sets up a rival newspaper, exposing the controversial stories that teachers and the kids who rule the school would rather keep buried.