Local schools come together to create a virtual nativity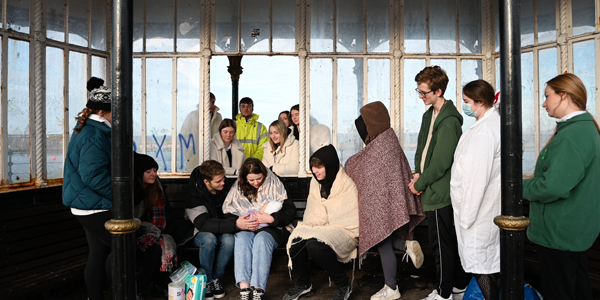 This Christmas, primary and secondary schools from within Holy Family Catholic Multi Academy Trust have filmed a modern-day take on the nativity for its local communities.
St John Plessington Catholic College in Bebington, St Mary's Catholic College in Wallasey, Our Lady of Pity RC Primary School in Greasby, St Bernard's RC Primary School in Ellesmere Port and St Joseph's Catholic Primary School in Oxton, are all proudly part of the Trust and worked together to create this unique film.
Laurie Smith, director of music at the Trust, was the creative lead on the project and ensured the story reflected the recent unprecedented times and incorporated the essential work of food banks and key workers.
Laurie Smith said: "It can be extremely difficult to witness the struggles of others, especially at Christmas time and it was deeply humbling to film part of our nativity at the Wirral Foodbank. Both students and staff were moved by the amazing work carried out by their team of selfless volunteers. We are so proud that we can use our nativity to help raise funds for Wirral Foodbank to support families who need help this Christmas."
The nativity can be watched here.
Andy Moor, CEO of Holy Family Catholic Multi Academy Trust, said: "Our youngest children tell the story whilst secondary pupils lead the drama and children across all schools join in singing together. The final scene culminates in a moving sequence in New Brighton.
"I am so proud of everyone involved and I think it shows the incredible talent we have across our schools."
Maria Sharratt, headteacher of St John Plessington Catholic College, said: "Watching the children and staff across our trust coming together to share the joy of the nativity fills us with hope and humility. The children and young people, from early years to sixth form, collaborating epitomises the beauty and privilege of working in our schools. St John Plessington students have thoroughly enjoyed the experience."
The nativity was premiered to students and staff over the last few days of term. Parents have also been able to watch it online, with many blown away by the quality of the production.
On Twitter, one user said: "Wow. [An] emotional watch but performed so beautifully by all. Well done to all involved."