Winstanley Students score gold in global challenge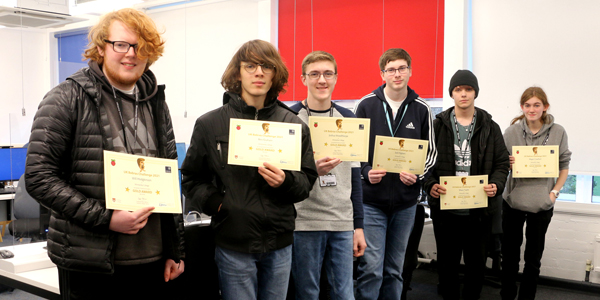 Several Winstanley College students recently participated in the Bebras Computing Challenge, supported in the UK by Oxford University, and were pleased to be placed within the top ten per cent of the country.
The online challenge organised over 50 countries, presents a series of tasks that introduce computational thinking to students; requiring them to think and perform like a computer scientist.
In the UK, schools can enter students from age 6 to 18 into their age-appropriate challenges. There is also a special challenge for students with severe visual impairment who are 10 to 18-years-old. Students have to answer questions that focus on computational and logical thinking; it is completed online in their own schools.
The challenge first began in Lithuania in 2004 and has since grown into a worldwide event. The UK first participated in 2013, and student entries have grown from a humble 21,000 to more than half a million in the last two years. That means that Winstanley College students have placed in the top 50,000 out of 500,000 students in the UK.
Winstanley College are committed to encouraging students to participate in enriching experiences and were delighted that so many students were successful in this highly acclaimed STEM challenge.
The competition has inspired many schools and pupils with one teacher saying: "I just want to say how much the children are enjoying this competition. It is the first year our school has entered, and I have students aged 8 to 11 participating in my computing lessons, with some of our older students also taking on the challenges.
"It is really helping to challenge their thinking, and they are showing great determination to try and complete each task! Also fantastic to find something that works on our iPads, as most puzzles of this kind are flash based."
"I just wanted to say thank you for running this. It's a brilliant idea!"