Get your schools virtually involved in the 2024 Olympic Games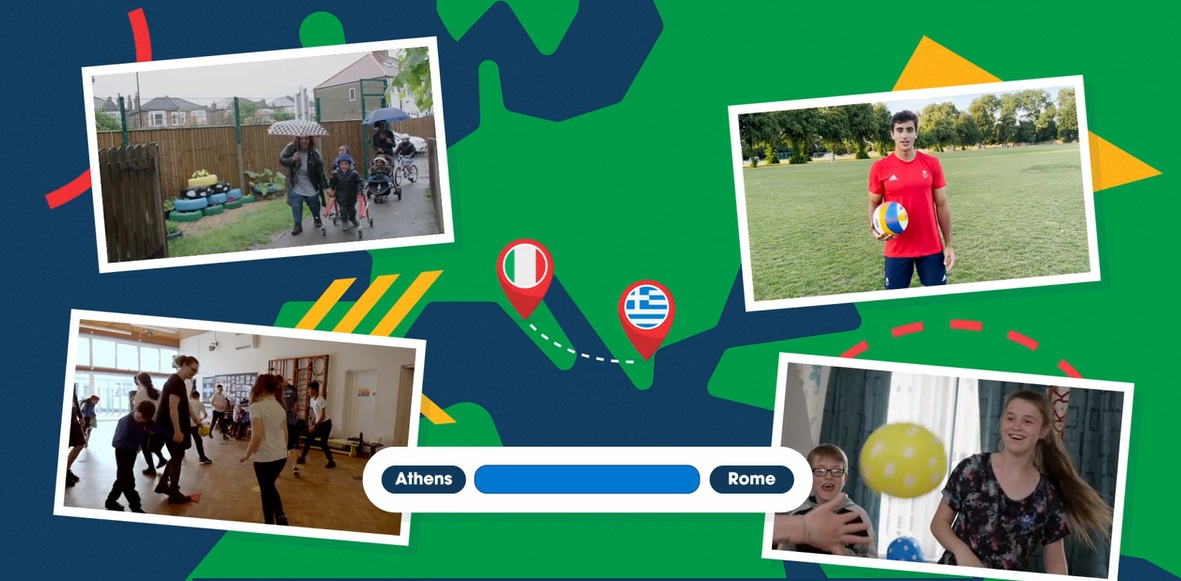 In just under a year, the 2024 Olympic and Paralympic Games will take place in Paris. To mark this occasion, Get Set (the official youth engagement programme from Team GB and ParalympicsGB), is on a mission to get children aged 5-11 and their families more active with their new virtual challenge – Path to Paris.
Schools, community groups or families can set up teams for children to take part – and everyone can join in with the fun alongside them, completely for free!  
Research has shown clear links between how active children are and the state of their mental wellbeing, even down to how much they are able to concentrate and their levels of self-esteem. Path to Paris provides an opportunity to bring positive change into all aspects of children's lives, all while bringing families, school communities, and wider communities together.
The challenge begins in Athens, the birthplace of the Olympic Games. From there, children will embark on a virtual journey around the world in a team bus, completing fun activities as they explore different places on their way to the Paris Games.
Every physical activity logged will earn kilometres to power their virtual team bus to its final destination. Whether it's jumping on the trampoline in the garden, playing wheelchair basketball, attending a weekly judo club, or dancing around the living room as a family, it all counts, so everyone can get involved and get their hearts racing doing something they enjoy. 

Children will learn about athletes and their sports, the history of the games, and can also win incredible prizes as they complete the Path to Paris. The prizes range from sports equipment to support them to get and stay active, posters and stickers to help them track their progress, and even exclusive school visits from Olympic and Paralympic athletes.
Team members might also get shout outs on social media from athletes, or win awards for their outstanding achievements, whether individually or as a family.
Path to Paris uses a gamified approach designed to inspire and excite children to take part and keep moving. There are lots of motivational activities and videos to encourage them to stay active and build healthy habits, and in doing so, power their virtual team bus to Paris before the start of the games.
Jamie Piggins of Team GB said: "The Paris 2024 Olympic and Paralympic Games will inspire the nation, with the best British athletes providing incredible performances on the global stage. The Path to Paris programme will allow young people from across Great Britain and Northern Ireland to feel closer to these unforgettable moments by taking part in physical activity, meeting inspirational athletes, and learning more about the Olympic and Paralympic movement.
"Team GB hopes to contribute to the health of the nation, so we are delighted to see Path to Paris launch and look forward to the positive impact it has."  
David Clarke OBE PLY, ParalympicsGB CEO, said: "We're proud to be part of Path to Paris, and believe it will encourage and inspire all children and young people to embrace a more active lifestyle, whatever activity it is they enjoy.
"We're excited that as part of this programme there will be a focus on disabled children and their families helping to inspire and support them to take part in more physical activity. We think it will have significant social impact across the country, as children embrace the values of the Paralympic Games, build active networks with their families and communities, and form regular habits so they continue an active lifestyle long after the 2024 games are over."
Kathryn McColl, director of marketing, strategy, and impact at EVERFI from Blackbaud, said: "It has been a privilege to work with the Get Set programme for the last decade, and help launch amazing programmes like Path to Paris, which can make such a difference to people's lives.
"We look forward to seeing the success of Path to Paris over the next year, and how it will help encourage children to get moving more – and have fun at the same time!"
Path to Paris is easy for schools to activate and fits in perfectly with the curriculum, with key links to PE, PSHE/health and wellbeing, geography, and history.
 Get your school, community group, or family involved now, so you're ready to begin your journey to Paris. Learn more at www.getset.co.uk/pathtoparis