Remembering the 96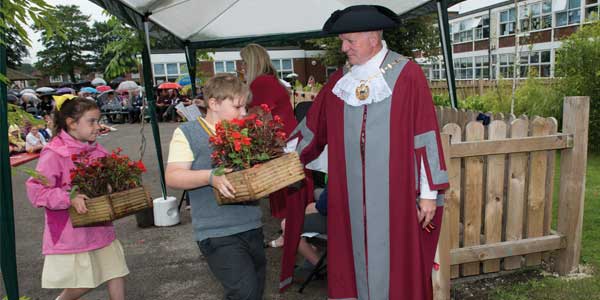 Pupils at St Margaret Mary's Catholic Junior School in Pilch Lane, Huyton celebrated the official opening of a commemorative garden for the 96 victims of the Hillsborough disaster.
The idea for the garden came from the pupils themselves and it was developed with the support of the school gardener, Simon Lyon.
Father Mark Moran, parish priest of St Margaret Mary's, led prayers and a blessing at the opening at which the Liverpool anthem 'You'll Never Walk Alone' was sung.
The Mayor of Knowsley, Cllr Frank Walsh and George Howarth MP, were present together with representatives from the Hillsborough Family Support Group and from both Liverpool and Everton Football Club.s
The memorial garden has been carefully designed and created in memory of the 96 Liverpool supporters who lost their lives at Hillsborough. It includes 96 planters, which sit around the garden. At its centre is a carved stone bearing the number 96 along with a 96 emblem made up of plants.
All those present at the opening ceremony were invited to place one of the 96 planters into the garden.
All the plants and other material in the garden were donated to the school, whose headteacher, Marcella Armstrong, spoke about the impact it had already made on the pupils. "We feel the garden, which all the children can access at all play times, is a wonderful way to ensure that the 96 are never forgotten.
"The pupils really enjoyed getting involved in the planning and planting and they are very proud of what they have created. It is a great tribute and a lovely space that all five hundred pupils at our school will enjoy for a long time to come".