St Margaret's Anfield are first Liverpool school to achieve highest SIAMS grade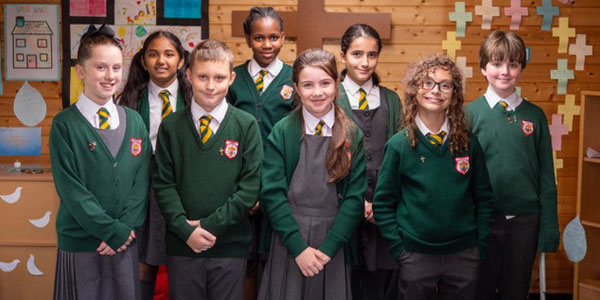 St Margaret's Church of England Primary School in Anfield was given an 'Excellent' SIAMS grade in November 2021, as the first school in the Diocese of Liverpool since the pandemic to be inspected under the new framework.
SIAMS stands for 'The Statutory Inspection of Anglican and Methodist Schools'. Church of England and Methodist schools have their religious education and collective worship evaluated in the SIAMS inspection.
SIAMS now has a new framework on its inspections. The purpose of these inspections is to help a school evaluate its Christian vision on both pupils and adults. Inspectors will explore solely how effective a school's Christian division is in enabling pupils and adults to flourish.
SIAMS inspections were put on hold due to the pandemic. They have recently resumed with the new framework, and St Margaret's Anfield not only achieved the new highest SIAMS grade 'Excellent' in November 2021, but were also the first school in the Liverpool Diocese to be inspected.
Headteacher of St Margaret's Anfield, Mark Griffiths, is eager to keep their excellent grade in years to come.
Mr Griffiths, said: "Our parents and children share our Christian vision, and this has enabled the school to flourish and achieve our excellent grade.
"As we are committed and dedicated to our Christian vision of our school, we feel that with COVID hopefully coming to an end, schools can go back to some normality. We feel we can continue to build upon our SIAMS grade.
"We ensure the children are at the forefront of everything we do and every day we encourage our children to believe in our mission statement 'with God all things are possible' and we have children in our school who are given the opportunities to achieve anything they put their minds to!
"With this in mind and the strong leadership team and wonderful staff our school will go from strength to strength."
In their previous inspection in 2014, they achieved the highest SIAMS grade at the time, which was 'outstanding'.
David Thorpe, deputy director for Church of England schools in Liverpool Diocese, said: "It's very pleasing to hear that St Margaret's Anfield achieved the excellent grade as they were the first to be inspected under the new framework, which is increasingly more difficult for schools to achieve now.
"The SIAMS inspection focuses on all the school's Christian vision and what difference it makes to not just the pupils, but the staff and the local community."
Mark Griffiths was appointed as headteacher of St Margaret's in September 2021, just two months before the SIAMS inspection.
David said: "This shows not only that Mark has inherited a fantastic school, but he has also maintained it."
In the report the school received, they were told that their school's vision and associated values are firmly rooted in the Bible. Pupils, adults and the school's extended and diverse community flourish due to how the school's values powerfully infuse all areas of the life, relationships and mission of the school's community
The extremely strong links the school has with the local clergy contributes significantly to the school's Christian character and impacts positively on the spiritual life of all members of the school community.
The school was also praised on its religious education, with the report saying it was very well led and the subject follows a well-planned curriculum.
There were a small number of areas for improvement, which the school has taken on board and are already implementing these developments to ensure their pupils and staff are able to further flourish and share their values with other schools.
Overall, the school were told they were transformative over the lives of its pupils.
Mr Griffiths said: "This is why we work in education.
"Our children are everything to our school and to have it acknowledged that we are clearly transformative on the lives of its pupils is fantastic. We strive to ensure our children get the best in everything.
"We are a family. The children are the driving force and always will be at St Margaret's Anfield."